Spicy-Sweet Beef Empanadas (Mexico)
Honeym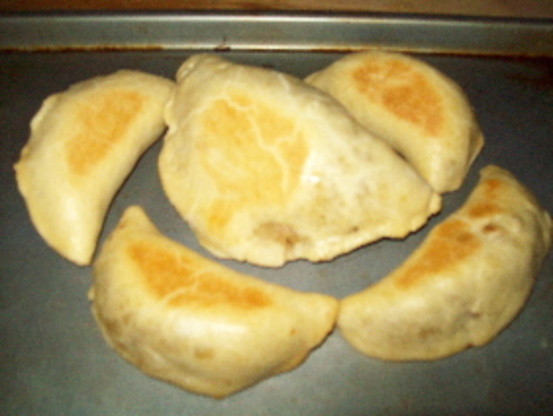 Who doesn't love a warm empanada?!?! These savory turnovers make great appetizers because you can prep them ahead of time and freeze for up to a month....and they still taste fantastic!

Top Review by Honeym
I made these for my husband and he said they were pretty good. I left out the cilantro and the almonds because I did not have them on hand. I also made my own puff pastry. My hubby said they needed some kind of sauce or cheese, so I'll try that next time.
Preheat oven to 375°F In a skillet over medium heat, brown the meat and onion. Pour off excess fat, then add garlic and sherry. Boil down until the liquid is almost completely evaporated.
Add cinnamon, cloves, cumin and salt/pepper. Stir in the tomatoes, sugar and vinegar and cook over medium heat until the tomatoes have reduced to a thick sauce. Stir in the cilantro and almonds and set aside.
Roll out puff pastry into a thin layer on a lightly floured counter. Cut the pastries into 8 six inch circles. Place a tablespoon or two of the filling in the middle of one circle. Brush the edge of the pastry with beaten egg, then fold in half and press the edges together to seal.
Press the tines of a fork along the sealed edges of the pastry to make the seal more secure. Prick the top of the empanada with the fork, then place on a baking sheet. Brush with beaten egg. Repeat with the remaining pastry circles and filling.
Bake for 15-25 minutes, or until light golden brown on the outside and hot in the center. Serve immediately with your choice of garnishes! Enjoy!