Spicy Stuffed Bell Peppers (Vegetarian/Vegan/Gluten-Free)
Prose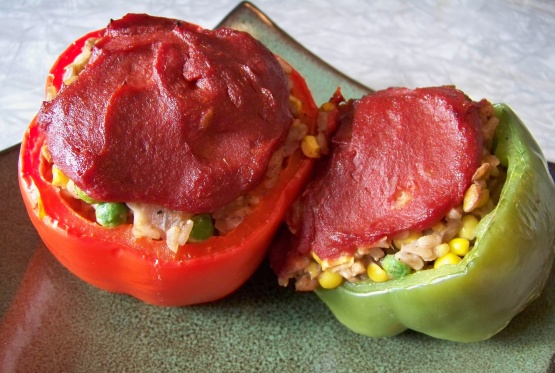 With hearty lentils, brown rice, and vegetables, as well as some sassy seasonings, nobody will miss the meat in this recipe I created for company. I served them with a side of sweet potato fries and watermelon for dessert. Any extra filling makes an excellent midnight snack or lunch.

Please make sure you use gluten-free soy sauce when making this recipe.... regular soy sauce is made using wheat grain. Remember - ALWAYS read labels, no matter what you're using. It truly amazes me the things the manufacturers use wheat derivatives in.

AND remember that many "cornflours" are made from wheat flour.... you MUST read "MADE FROM MAIZE flour".
Sautee onion, jalapeno, and garlic in oil until onion just starts to turn clear. Add carrots and cook another minute or two. Add rice, lentils, and liquid. Turn heat up to high. Stir in garam masala and 1 tablespoon of the Braggs. Bring to a boil. Then cover and reduce heat. Simmer for 40-50 minutes or until rice and lentils are tender.
Meanwhile, preheat oven to 350 degrees. Cut tops off of bell peppers and clean seeds out from inside. Submerge in boiling water for 3-5 minutes. Place in a shallow baking dish.
Mix tomato paste, remaining Braggs, and ketchup in a small bowl. Add a little warm water to thin to the consistency of a thick sauce.
When lentil/rice mixture is cooked, stir in corn and peas. Scoop mixture into bell peppers. Spoon tomato sauce on top of each and bake for about 20 minutes or until peppers are slightly tender and tomato sauce is dark.