Spicy Stuffed Bell Peppers
scancan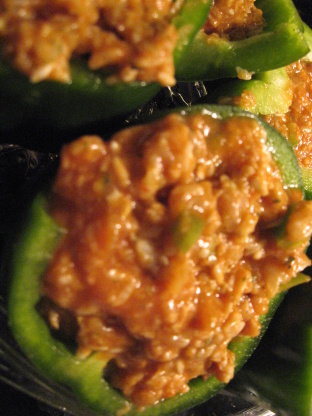 If you love the cuisine from the Middle East, you are sure to love these. I have also made these using ground chicken but I think beef tastes best.

Delicious! Thanks for posting! Easy to make too!
Boil rice in a saucepan with three cups boiling salted water for 10 minutes. Rinse with cold water and drain well.
Heat two tablespoon oil in a skillet, add onion and cook over low heat until softened. Let cool.
Mix with remaining stuffing ingredients.
Preheat oven to 350.
Cut tops off of peppers and remove stem, core and seeds.
Spoon stuffing into peppers and cover with reserved pepper tops. Stand peppers in a baking dish into which they just fit.
Pour tomato sauce over peppers.
Sprinkle peppers with oil.
Bake uncovered about 1 hour or until very tender.