Spicy Stuffed Acorn Squash
Serah B.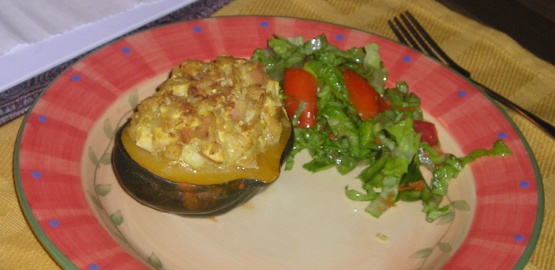 I absolutely love acorn squash, but find most recipes for it to be much too sugary for me; after all, the acorn squash is naturally sweet on its own. This recipes adds no sugar--only a little apple juice for sweetness--and uses coriander, curry and a bit of cayenne to compliment the flavor of the squash. Yum! From The Vegetarian Gourmet.
Place halves of acorn squash, cavity facing down, in a 9x13-inch baking pan with 1/2 inch of water. Bake 350 oven for 30 minutes or until squash is tender when center is pierced with a fork.
While squash is baking, mix together the next 10 ingredients.
Stuff the squash halves.
Pour 1 tsp apple juice over each, sprinkle with coriander, and bake in 350 oven for approximately 25 to 30 minutes or until hot and light brown on top. Serves 4.