Spicy Stir Fry Tofu With Peanut Sauce W/ Snow Peas and Mushrooms
mikey ev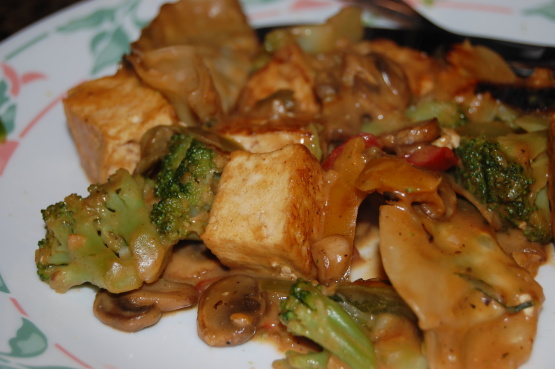 So yummy and healthy. I used a mix of frozen veggies (thawed) and sliced button mushrooms instead of the suggested vegetables.

Really yummy! I've made this four or five times so far. The only part of the recipe I really use is for the sauce and I usually double it because I use a lot of veggies. Tonight I made it with fresh broccoli, carrots and celery. In the past I have made it with mushrooms (regular button) and frozen green beans and/or frozen broccoli.
Place tofu cubes on several layers of paper towels. Cover with additional paper towels; let stand 5 minutes.
Heat oil in a large nonstick skillet over medium-high heat.
Add tofu to pan; cook 7 minutes or until lightly browned, gently turning occasionally.
Remove from pan; keep warm.
Add snow peas, bell pepper, 1/4 cup of water, onions, ginger, and garlic to pan; stir-fry 3 minutes.
Add mushrooms; stir-fry 2 minutes.
Combine remaining 1/2 cup water, tamari, peanut butter, cornstarch, sriracha, and salt in a small bowl; stir well.
Add tamari mixture and tofu to pan; cook 1 minute or until thickened, stirring constantly.
Serve warm over rice or noodles; or chilled.