Spicy Spinach Mushroom Enchiladas
Rita1652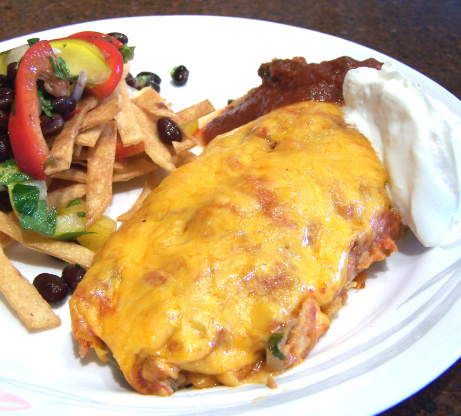 This is an easy take on classic enchiladas, using diced mushrooms and spinach as a filling.

I made this as directed and we didn't like the taste. I'm not really sure why. I served it with Mexican Rice and roasted corn. Thank you for your recipe. I'm sorry that this didn't work out for me as well as it does for you.
Preheat oven to 350 degrees.
Spray a large skillet with nonstick cooking spray and heat over medium heat.
Add onions, cumin, garlic powder, salt, and crushed red pepper, and saute until onions are clear and soft, stirring frequently.
Add mushrooms and stir to combine. Cook over medium-low heat until mushrooms are cooked through, stirring occasionally.
Add spinach and 1/2 cup enchilada sauce. Cover, reduce heat to low and cook until spinach is wilted. Remove from heat.
Stir in 1 cup cheese to spinach and mushroom mixture. Roll up 1/2 cup of mixture in each corn tortilla and place each enchilada seam-down in ungreased 9x13 pan.
Pour remaining enchilada sauce evenly over the enchiladas. Top with remaining cheese.
Bake uncovered at 350 degrees for 15-20 minutes.
Serve with sour cream and salsa.