Spicy Spanish Garlic Shrimp
PanNan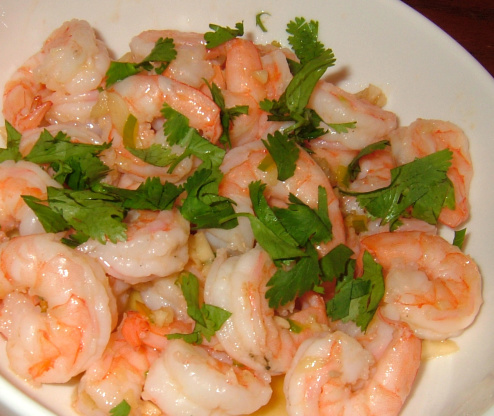 Spicy garlic shrimp...YUM YUM YUM! Flies off the table in seconds. Recipe source: Sunday newspaper.

This was very easy to make. I only had frozen cooked shrimp so I used that and loved it. Will be making this again in the near future. thanks for the recipe.
Melt 2 teaspoons butter in a skillet and cook shrimp on high for 2 minutes.
Sprinkle with salt.
Turn once.
Remove shrimp and set aside.
In same skillet melt remaining butter and sauté jalapeño and garlic for 1-2 minutes.
Next return shrimp to skillet and add cilantro and lime juice.
Cook until shrimp turn pink.