Spicy Spaghetti Ginger Salad (Asian)
Annie H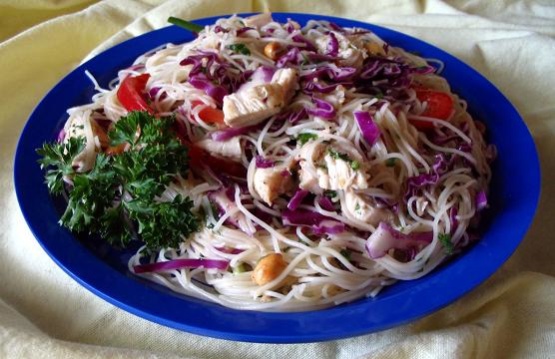 I first had this at a YMCA walkaton in the year of 1998. Very simple and tasty.

This salad was wondeful! The dressing was flavorful but not overpowering. With all the different veggies and the nuts, every bite was a different texture and flavor. This recipe makes quite a bit, but we ate all of it in two days. I found it helpful to start cooking the chicken (I poached mine) and pasta first so it was cool by the time I finished preparing the veggies. I wonder how this would taste with cashews or slivered almonds. I'll definitely be making this again!
Make dressing; Combine vinegar, soy, ginger, garlic, sugar and pepper flakes.
Whisk in both oils.
Chill in a measure until needed.
Place the cooked pasta, cabbage, onions, peppers, and chicken, and tosss lightly to combine in a large bowl.
Chill until serving time.
At serving time, add the dressing and the peanuts, toss.
Season with salt and pepper and toss once more.