Spicy Southwest Chicken Sandwich
Elainia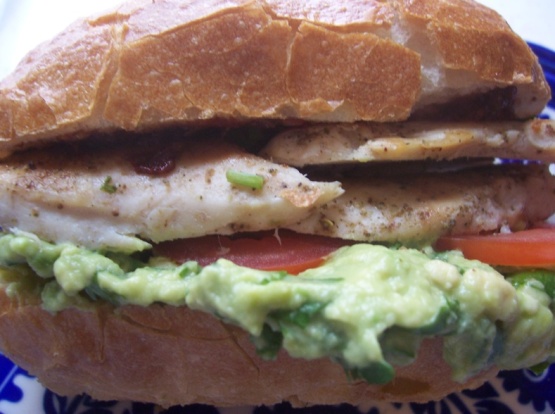 From thenest.com which featured this recipe from 150 Things to Make with Roast Chicken by Tony Rosenfeld. I haven't tried it but I'd like to (sans bacon of course ;-) )

This was fabulous! The avocado and cilantro with lime combined with the sweet chipotle sauce is my new fave, I used what was leftover to make a turkey wrap the next day. The combo of flavors is top notch, like something you would get at a gourmet shop, yet it took less than 25 minutes to put this together and have it on the table! I used french bread rolls, since I couldn't find small foccacia and there was only two of us eating. Thanks for finding and sharing this recipe! It is a new favorite.
6

sun-dried tomatoes packed in oil, chopped

1

chipotle chile, canned

2

tablespoons adobo sauce

2

tablespoons water
1⁄4 cup olive oil

1

tablespoon balsamic vinegar

2

teaspoons Dijon mustard

1

teaspoon light brown sugar
black pepper, freshly ground

1

avocado, ripe and pitted
1⁄4 cup fresh cilantro, chopped
2 1⁄2 cups chicken, thinly sliced

4

slices bacon, thick, cooked until crisp (optional)

1

large tomatoes, ripe, cored and thinly sliced
1⁄2 red onion, thinly sliced

8

slices focaccia bread or 8 slices sourdough bread, lightly toasted
1. In a blender, mini-chop, or food processor, pulse the sun-dried tomatoes, chipotle, adobo sauce, water, oil, vinegar, mustard, and brown sugar together until smooth. Season with salt and pepper to taste and pulse again. Transfer to a small bowl.
2. In another small bowl, mash the avocado with half the cilantro and all of the lime juice. Season generously with salt and pepper to taste.
3. Spread 4 of the slices of bread with the avocado mixture. Spread the remaining 4 pieces of bread with the sun-dried tomato-and-chipotle mixture, then layer on the chicken, bacon, tomato, onion, the remaining cilantro, and the bread. Cut in half and serve immediately.