Spicy Southwest Baked Beans
teresas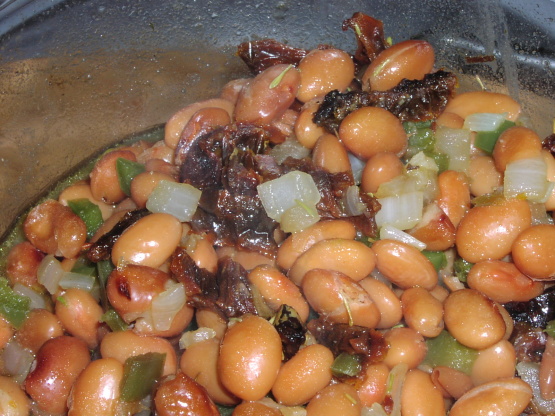 Great side for your favorite burger! You may substitute 2 cans of black beans for the pinto beans, or use 1 can of each! From 1001 Low-Fat Recipes.

I loved everything about these beans except the sun-dried tomatoes, and I love those things. I didn't think they worked well with the recipe. I picked them out and so did DH. I really never pick things out. So next time I will omit those. I did cut the recipe in half and thought the sweetness was spot on. I used the beer even tho I don't drink it but we had some left over from a get together. I cooked this in the oven with a meatloaf and roasted potatoes for a very easy dinner. I enjoyed the bite to this dish. Thanks for posting. :)
Saute onion, bell pepper, chili and garlic in oil in large skillet until tender, about 8 minutes.
Combine onion mixture and remaining ingredients in 1 1/2 quart casserole.
Bake at 350 degrees, covered, 30 minutes.
Uncover and bake 15-20 minutes or until liquid is nearly absorbed.
Discard bay leaf.