Spicy Southern Barbecued Chicken
Prep 10 mins
Cook 1 hr 55 mins
Directions
Combine all ingredients except chicken in a saucepan.
Simmer for 15 minutes.
Wash chicken and pat dry.
Place chicken on a large platter.
Brush chicken with 1/2 of sauce mixture.
Cover with plastic wrap and marinate in refrigerator for 1 hour.
Place chicken on a baking sheet lined with aluminum foil and broil for 10 minutes on each side to seal in juices.
Turn oven down to 350° F and add the remaining sauce to the chicken.
Cover the chicken with aluminum foil and continue baking for 30 minutes.
Most Helpful
We really enjoyed the spice in this sauce! This made for a yummy bbq chicken dinner last night. After broiling, it looked like my chicken was almost done so I only continued to cook them, covered, for another 15 min. instead of the 30 min. Made for Spring PAC.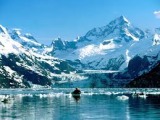 I modified slightly to adapt for ingredients in my pantry. We're on a strict budget, so I made do with what was on hand. In place of tomato sauce I extra spaghetti sauce I had frozen. I used clear Karo syrup for honey, pancake syrup for molasses. Had everything else. I sliced the chicken breasts into thin cutlets, marinated overnight in the fridge, then seared in the skillet. Then I followed instructions to heat in oven for 30 minutes. The entire family oved them!