rpgaymer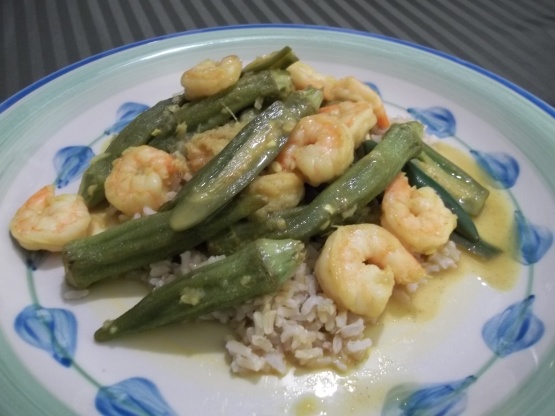 This is a very spicy dish that has a unique, tangy flavor. The combination of okra and serrano peppers isn't for everyone, but people who love both ingredients (like me) should enjoy the combination.

Top Review by ellie_
Very good and spicy dish! I changed the recipe a bit by using frozen okra (added with the shrimp) and only 2 peppers and 2 cloves of garlic. I also cut down on the oil by half. Still very spicy and hot dish which we enjoyed very much. Thanks for sharing!
Heat the oil in a large pan or wok over medium-high heat. Fry the okra until they are slightly crisp and somewhat browned (about 5 minutes). Remove from the oil and set aside.
In the same oil, fry the garlic, ginger, serrano peppers, turmeric, basil, and cumin for 2 minutes. Add the shrimp and mix well. Cook until shrimp are done, or about 3 minutes.
Add the rest of the ingredients along with the fried okra. Quickly fry the mixture for 5 more minutes, stirring gently to prevent the okra from breaking. Serve hot over rice, if desired.