Prep 10 mins
Cook 15 mins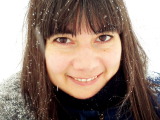 I absolutely LOVE this recipe!! When I first got married, the best investment I made was sending away for 6 teeny little coil-bound Campbell's Soup cookbooks. Nowadays, I don't use them much anymore, but this is one recipe that's still a favourite. You won't believe how tasty and quick this is!!
Directions
In a 10-inch skillet over high heat, combine water, soy sauce, ginger, pepper, garlic, and HALF of ONE soup seasoning packet (reserve remaining 1-1/2 packets for other use). Heat to boiling.
Add noodles, shrimp and green onion pieces. Return to boiling.
Reduce heat to low and cook 5 minutes, or until shrimp are pink and opaque and noodles are tender. Stir occasionally to separate noodles.
To serve, arrange mixture on platter. Sprinkle with parsley and garnish with green onion brush, orange peel and lemon slice, if desired.
Most Helpful
Very good. Very easy. Added a third package of noodles, using 3/4 of ONE seasoning packet.<br/>Husband gave it the thumbs up.
I made this for dinner tonight. The only change I made was to add some grated carrot. I think next time (and there will be a next time) I'll either use less shrimp or another pack of noodles. We thought the spice was just right, it was a little spicy for my son, he's 4, but it was nothing he couldn't handle with a glass of milk. :)
Thanks for posting!
Made this for lunch the other day and it was such an easy and quick dish. The flavor was wonderful and the only thing I did was use the fresh garlic and cut the recipe in half being it was just DH and myself. Thank you.