Boomette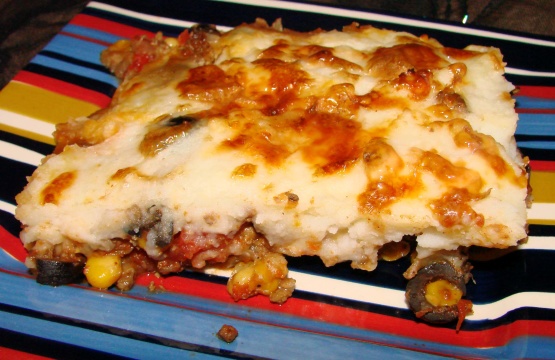 A kicked up version of the original. It calls for instant potatoes, but I use leftover real mashed potatoes.
I used a 12 ounces can of corn (couldn't find mexicorn). I used home made taco seasoning, no sodium. I omitted the salt. The package of mashed potatoes I used was not the best. I should have taken the brand Betty Crocker, and a flavor of butter and herbs. But other than that, it's perfect. Great recipe, easy to do. Thanks CoffeeB :) Made for PRMR
Prepare mashed potatoes according to directions.
In a large skillet, cook beef and onion until the meat is browned.
Drain.
Add tomatoes, corn, olives, taco seasoning, chili powder, salt and garlic powder.
Bring to a boil.
Cook and stir for 1-2 minutes.
Transfer to a greased 2 1/2 quart baking dish.
Top with 3/4 cup cheese.
Spread mashed potatoes over top.
Sprinkle with remaining cheese.
Bake uncovered at 350 degrees for 12-15 minutes or until cheese is melted.
*4 1/2 cups of prepared mashed potatoes may be substituted for instant.