Spicy Seared Scallops Tapas
Rita1652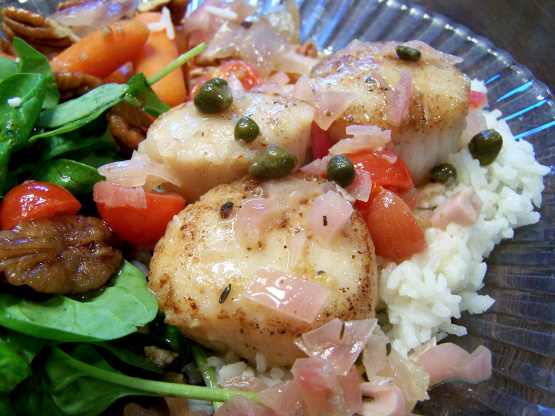 The sauce in this dish is great sopped up with a loaf of crusty bread Enjoy!

We just did not like this. We found it way to harsh and bitter. This has great potential- in that I agree with Kelly-but it just needed something to mellow it out and make it palatable. A real shame since scallops of this size are very pricey! I hate to give bad reviews. I do wish you lots of luck chef and hope others found this recipe to their liking.
Melt 1 tablespoon of the olive oil and 1 tablespoon of the butter in a medium pan.
Add the onion and garlic; sauté for a couple of minutes.
Then add the capers, Dijon mustard, lemon zest, lemon juice, tomatoes, 3/4 cup of the wine, and stir until well blended.
Season with salt to taste and the red pepper flakes; put on low heat to simmer while you sauté the scallops.
Melt the remaining olive oil and butter in a small pan and cook the scallops until nicely browned on both sides.
Add the scallops to the sauce, along with the remaining 1/4 cup of the wine, and the parsley flakes; stir.
Simmer on low for 10-12 minutes, re-season with salt if needed. Serve immediately with some good bread for sopping the yummy sauce!