Spicy Seafood & Meat over Rice
Debi9400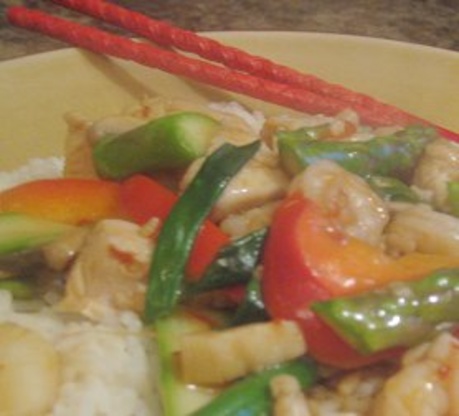 In Spanish, "Mariscos y Carne Picante Sobre Arroz". Based on a recipe from the cookbook, One Dish Meals, edited by Su-Huei Huang.

This was a good recipe. I made a couple of changes only because I couldn't find the ingrediants up here. So instead of squid I used scallops, and instead of dried chilies, I used 2 tsps of Sombel Oelek (hot chili paste). I also didn't add the sugar - never do. We seasoned with fresh ground black pepper. I'll be making again but kicking up the heat a bit more. (apologies for the photo - something's wrong with the camera. Will get a better one next time)
1⁄4 lb squid
1⁄4 lb chicken breast (or pork or beef)
1⁄4 lb shrimp
1⁄4 teaspoon salt

1

teaspoon cornstarch

4

tablespoons oil, divided

1

cup asparagus, sectioned

1

cup mushroom, sliced
1⁄2 red bell pepper, sliced

3

tablespoons water, divided

3

garlic cloves, sliced

5

dried chilies, sliced
1⁄2 cup green onion, white part only, in 2-inch long sections

1

teaspoon sugar

1

teaspoon vinegar

1

teaspoon sesame oil

1

tablespoon dry white wine

1

tablespoon soy sauce
1⁄2 tablespoon dark soy sauce
1⁄2 tablespoon cornstarch
1⁄2 cup green onion, green part, cut in 2-inch long sections

2

cups rice, cooked
Score the squid in a crisscross manner, then cut in pieces.
Slice meat.
Combine salt and cornstarch in medium bowl.
Add squid, meat, and shrimp to cornstarch mixture and mix to coat.
In small bowl combine sugar, vinegar, sesame oil, wine, soy sauces, ½ tablespoon , cornstarch, water, and green onion sections (green parts).
Heat the oil in a frying pan or wok.
Add the asparagus, mushrooms, red bell pepper, and one tablespoon of the water; cover and cook until steamy. Stir-fry briefly, then remove from pan or wok. Wipe wok dry.
Heat 3 tablespoons oil to pan or wok. Add the garlic, dried chili peppers, and green onions (white parts). Stir-fry until garlic turns golden brown.
Add squid, meat, and shrimp to pan or wok and stir-fry until separated and cooked.
Add sugar, vinegar, soy, cornstarch, etc. mixture and return vegetables to pan or wok. Stir-fry to mix well.
Place on top of rice and serve.