jonesies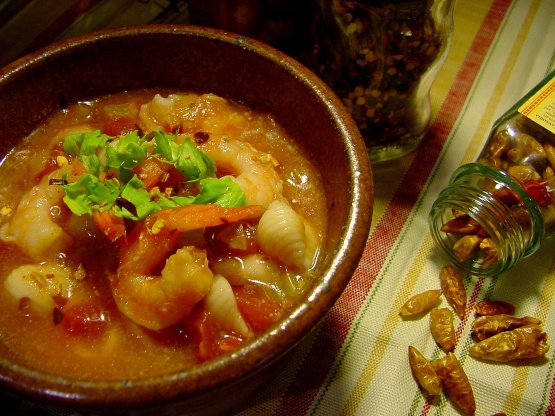 This spicy soup gets its kick from hot pepper sauce and cayenne pepper. Simple to make and goes great with a lot of different meals, or just as great with a simple salad.

I have made this recipe several times and again just last night. We really enjoy it and find the spice just right with the 1/4 tsp of cayenne. My husband just can't quit eating this dish! I like to serve it with crusty Italian bread. Thanks for posting. YUM!
In a large saucepan, saute the onion and celery in butter until tender.
Add broth, tomato juice, tomatoes, Worcestershire sauce and seasonings.
Bring to a boil.
Reduce heat, cover and simmer for 20 minutes.
Discard bay leaf.
Add pasta to the soup; cook, uncovered, until tender.
Add shrimp and crabmeat; simmer 5 minutes longer or until the shrimp turns pink.