3 Reviews
This one is a keeper for us. Changed a few things; sub'd jalapenos, black bean sauce, green onions & used garlic peppercorn spice. Increased the chicken abit & snuck in some finely chopped tofu (even though we aren't crazy about it) & lastly some raw shrimp in the last few mins of cooking. I cut back the spice abit & it was perfect for us. We couldn't even tell there was tofu being that is was marinated with the poultry. Enjoyed this recipe, thanks for sharing.
Oh I loved this. I stuck the marinated tofu in the fridge while I was off at karate, came back and threw it all together. I added more spice to mine because I'm an insane chilli addict and served on a bed of just wilted spinach because I didnt want rice or noodles to spoil it. Was so perfect and got rid of my hayfever quick smart. Will be making this again and again.

Both deliberately and by necessity I made some changes here. First I could not find long, skinny, red and yellow 'pyro' peppers so I used green jalapenos. I also could not find Szechuan seasoning (or even Szechuan peppercorns - where the hell did they go?) so I used Chinese 5 spice powder (oddly enough, the McCormick brand I used did NOT have Szechuan peppercorns listed as an ingredient). Finally I did not add the mushrooms as I don't eat them. Initially I had planned to make this when my boyfriend was going to be away for supper, but I forgot so I was forced to tone down the heat so he would find this palatable. As a result, I used about 1/3 the chilis, 1 tablespoon chili and garlic sauce and minimum amounts of the other hot spices. If I had used the amounts the recipe called for, I think I might have been more pleased with the results, but I was pleased anyway. As far as the technique, since I used seitan I did not cook it nearly as long as the recipe specified (of course if you are using real meat you will have to). BF was very skeptical of trying this, but in the end he finished everything on his plate. I trusted the chef and served over whole wheat spaghetti. I think the 5 spice powder may have transformed the taste of this dish, but I will have to give this 5 stars as I made it too. Adso is right, don't be put off by the ingredients; after the marinade is done everything else comes together easily.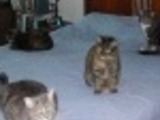 Spicy Screamin' Szechuan Stir Fry