Spicy Scrambled Eggs (Ww)
PaulaG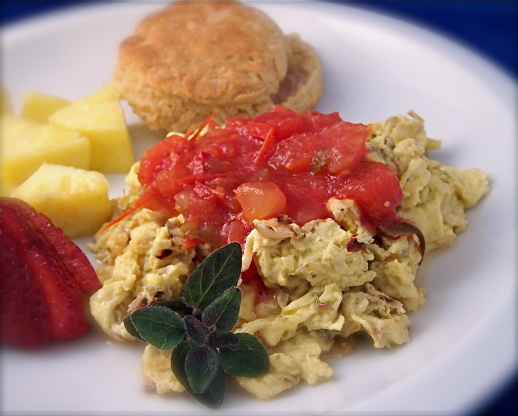 I really liked these eggs and they are only 3 points! Adapted from a recipe posted on weightwatchers.com The original recipe also included scallions and cilantro in the salsa which I didn't have.

I prepared this recipe exactly as it's written (including leaving in a few seeds for spiciness). I loved the results. These eggs pack a lot of flavour for only 3 points a serving. They are also Core if you are following Weight Watchers Core Plan. Made for ZWT5.
To prepare salsa: pour tomatoes into a sieve and set in sink, press on the tomatoes to drain off extra liquid. Spoon tomatoes in a bowl and stir in rest of the salsa ingredients (chili powder - pepper). Set aside.
To make the eggs in a medium bowl combine next 6 ingredients (eggs - pepper). Set aside.
In a skillet spray with Pam over medium heat.
Add shallots and peppers and cook stirring for 3-5 minutes or until shallots are tender.
Pour egg mixture into skillet and scramble eggs cooking until done (5 minutes).
Serve eggs topped with salsa.