Peter J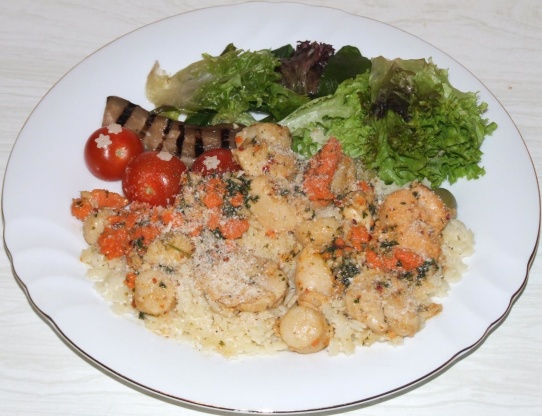 I love scallops and came up with a few different recipes by playing around. I always get rave reviews.

Really tasty Jules for something so quick and easy! When cooking the only pasta I had was a miniature macaroni variety not vaguely like linguine, but still tasted great and I think any of your favorite pasta varities would be fine. The sauce gave the pasta a wonderful spicy flavor.
While pasta is cooking, prepare scallops.
If they are large cut in half horizontally.
Pour oil in a large sauce pan and place over medium heat.
Add garlic cook until golden 1-2 minutes.
Careful not to burn.
Add parsley and red pepper flakes.
Stir once or twice.
Add scallops with a pinch or 2 of salt.
Increase the heat to high, and cook for 1 minute (or till the scallops are done).
Turn off the heat.
In a large bowl add cooked pasta and toss the scallops.
Top with bread crumbs.
Serve immediately.
Serve with a crusty bread and a nice green salad.