Spicy Scallop and Snow Pea Stir-Fry
Lorac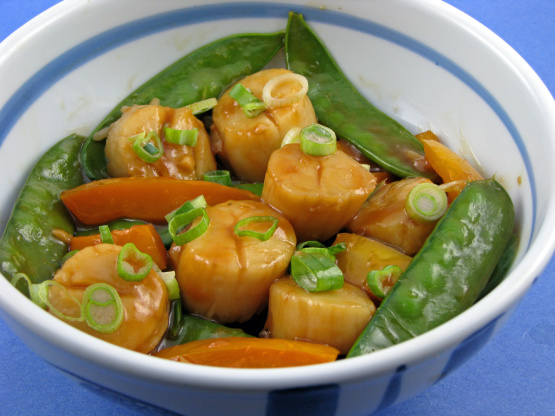 It's scallops season here in Maine! Our local supermarket chain (Hannaford's) included the following recipe in their monthly magazine. Outstanding!

Love scallops so I knew this would be a great dinner for DH and I...it was!!! Made as directed only cutting the recipe in half for us. Going into my Favorites of 2013. Thank you for posting. Made for 2013 Zaar Chef Alphabet Soup tag game.
In a small bowl, whisk together 1/4 cup of the water with soy sauce, vinegar, and cornstarch until evenly blended. Whisk in sugar and red pepper flakes. Set aside.
Heat oil in a large nonstick skillet or wok over medium-high heat. Swirl to coat pan. When hot, add scallops. Cook undisturbed for 3 minutes until golden brown on one side. Transfer scallops to a plate and cover with foil. Set aside.
Add garlic, ginger, bell pepper, snow peas, and remaining 2 tablespoons of water to the pan. Cook and stir until snow peas become bright green. Rewhisk sauce and add it to the pan along with reserved scallops. The sauce will quickly thicken as it simmers. Toss and stir until vegetables are coated with sauce and scallops are done cooking, about 1 minute.
Divide among 4 bowls and garnish with sliced scallions, if desired. Serve with rice.