Spicy Savory Pumpkin Soup
Prose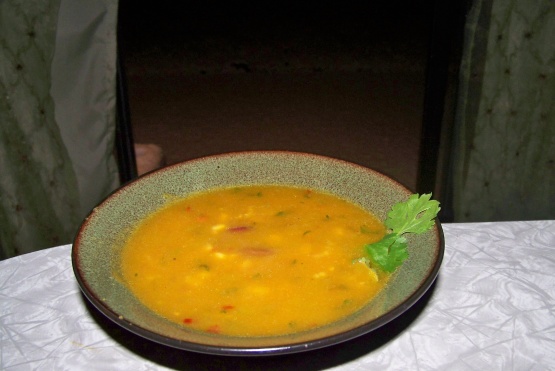 I made this one up on my own after I learned how to cook well enough. All kinds of beans can be used, black beans do very well as do pinto beans, but regular red or dark red kidney beans are my favorite with this particular soup. You can also substitute pumpkin puree for squash puree! I think the green onion goes perfect with the mix but a small can of green chiles works well too. This is a great soup to have in the fall. Yields about 4 medium-sized servings.

Top Review by Prose
Mmmmm...very hearty and healthy and EASY to make. Made as directed, using the green chile option and subbing a teaspoon of fresh grated ginger for the ground ginger (definitely recommended). I can't wait to make it again with black beans! My picky brother-in-law even liked it! He came up with the idea of topping it with crushed tortilla chips. It's also good with a small dollop of Tofutti brand vegan sour cream stirred in. This will definitely become a fall and winter favorite around here!
Rinse and drain the beans and corn, put them aside for now.
Bring the broth to a boil, then reduce the heat.
Meld the pumpkin puree into the broth, stirring well, until completely incorporated.
Stir in the beans.
Add the oil and garlic and incorporate, then lower the heat and let it simmer for a few minutes.
Add the corn and green onion (or the rinsed chiles if you're using those) and stir them in well.
Mix in the dried ingredients and incorporate. Then put in the cilantro.
Raise the heat a little and let it simmer until thick and bubbly, about 15-25 minutes.