Spicy Sausage & Black Bean Chili
giesorr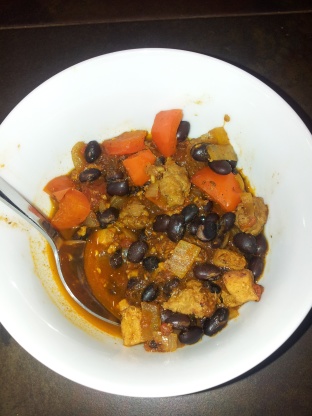 Unusual flavor and easy to make...you can also decrease the heat to actually make it edible! Tastes great on a cold winter day with a fresh loaf of crusty bread and a crisp green salad.

This had a really lovely taste -- spicy but not too hot and full of Italian flavour. I think it was the cumin that added that extra touch for me. I would add a smaller can of chopped tomatoes though. As it was, I added a bit of rice to soak up the extra liquid because it was still quite soupy even after simmering uncovered for well over 30 minutes.
Remove sausage from casing.
In dutch oven over medium-high heat, brown meat breaking it up with a wooden spoon as it cooks.
Drain off all but 2 tsp fat.
Reduce heat to medium.
Add chili powder, cumin, oregano, cinnamon, fennel seeds and bay leaves.
Cook, stirring for 1 minute.
Add onions, garlic, red peppers, adobo sauce, and chipotle pepper.
Cook, stirring, for about 8 minutes or until vegetables are softened.
Stir in diced tomatoes and 2 cups water.
Bring to boil, reduce heat and cook, covered, for 20 minutes.
Stir in beans.
Simmer, uncovered, for another 30 minutes or until sauce is thickened.
Remove bay leaves.
Note: you can substitute a jalapeno pepper for the chipotle pepper and hot sauce for the adobo sauce.