JustJanS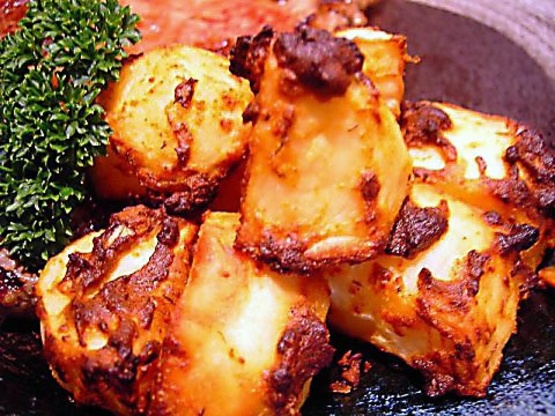 I haven't tried this one yet but it's on the menu for tonight since I have potatoes that I need to use up. This recipe is from the "Favorite Recipes From Quilters" cookbook.

These were OK. It was hard to get the mix to coat so much potato, and it tasted very much of the dry mustard (a sort of raw, bitter flavour) and not much else. A squeeze of fresh lemon juice as we ate them lifted them, but not enough to make us want to eat these again.
Preheat oven to 425 degrees.
In a medium bowl, mix dry mustard, Dijon mustard, olive oil, garlic, tarragon (I omit since I don't care for the taste of tarragon), paprika and cayenne pepepr into a smooth paste.
Cut unpeeled potatoes into 1-inch chunks.
Pat potatoes dry with paper towels.
Toss potatoes in mustard mixture until coated.
Arrange potatoes in a single layer on a lightly greased baking pan.
Bake for 30-35 minutes.