Sazzy2u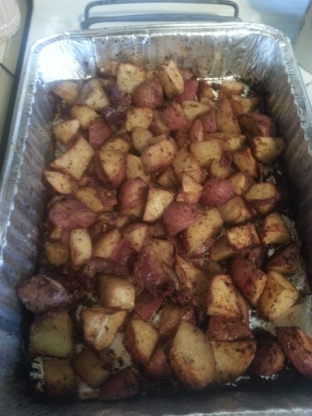 These potatoes are easy and make a wonderful snack.

This is a delicious low-fat recipe! I like extra seasoning so I use the amounts listed per 1 potato not 2. I also put everything into a cocktail shaker to coat each piece of potato perfectly!
Prepare a baking sheet by coating with nonstick cooking spray.
Preheat oven to 425 degrees F.
In a medium-sized bowl, combine the mustard, olive oil, garlic, Italian seasoning, thyme, paprika and red pepper.
Add the potatoes to the bowl and toss to coat well.
Spread the potatoes on the baking sheet in a single layer.
Bake for approximately 35 minutes or until potatoes are tender (this will depend on how large you cut the potatoes).
Enjoy!