teresas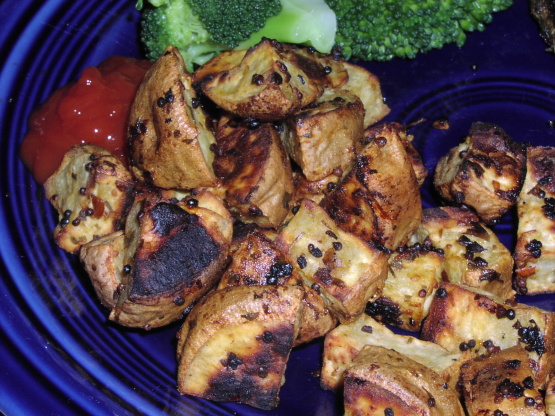 These are easy and fantastic! Try different herbs; just about any traditional herbs will work.

These are wonderful potatoes! I used some Mediterranean oregano instead of the tarragon and 3 large red potatoes but otherwise made as posted. The red pepper flakes give it a nice zing. The potatoes were done in about 30 minutes (I cut into 1 inch cubes or so. I know I will be using this recipe many times. Thanks for posting a keeper! Made and reviewed for PAC, Fall 2007 :)
In a medium bowl, mix the mustard oil, garlic, tarragon, paprika, and red pepper into a smooth paste.
Cut the potatoes into 1 inch pieces.
Pat dry with paper towels. Add to the bowl and toss to coat.
Coat a baking sheet with cooking spray. Add the potatoes in a single layer.
Bake at 425 for 30-35 minutes or until tender. (Cooking time depends on how small you cut the potatoes).
Serve hot as a snack (like French fries) or a side dish.