Spicy Roasted Plums (Diabetic)
BarbryT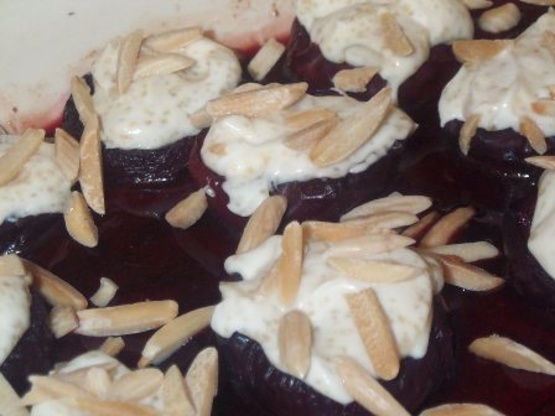 Another delicious recipes that will please diners whether or not they are diabetic. With a few ingredients, plums are transformed into an elegant and flavorful dessert. This recipe comes from a special publication from Diabetic Living.

Top Review by Edesia
I was not able to make this dish as written. Apparently it is impossible to buy plums in Michigan in December, so I substituted pears. The pears were much more firm than the plums would have been, so they didn't soften up as much as I would like. Also, I didn't have the almonds. But the sour cream/brown sugar topping was delicious. Thanks for the recipe; I can't wait to make it with the plums next summer!
Preheat oven to 450 degrees. Prepare a two-quart baking dish with a good cooking of cooking spray.
Prepare plums by slicing in half and removing pits. Place in the baking pan cut side up.
Combine juice, 2 tablespoons of brown sugar and the spices in a small bowl. Drizzle spiced juice over the plums.
Bake the fruit for 20 minutes or until the plums are tender. Note that actual cooking time will vary according to the ripeness of the fruit.
While the fruit is baking, toast the almonds lightly in a dry non-stick skillet. Just a minute or so until the nuts just begin to release their aroma and take on a bit of color.
In a small bowl combine the sour cream with the last tablespoon of brown sugar.
Place plum halves in a serving bowl. Dot with sour cream and sprinkle of almonds.