Bergy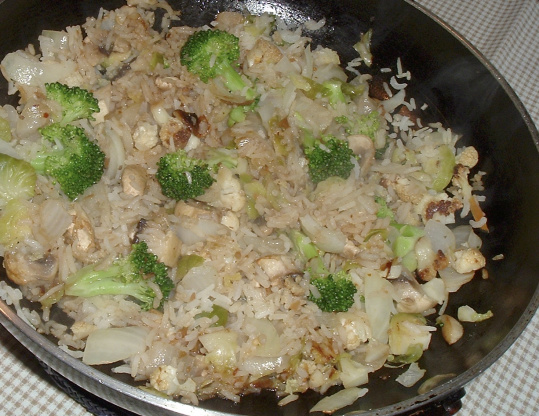 Ever wonder what to do with your left over white or yellow rice? Look no further, this delicious recipe will have you making spicy rice everyday! Can be served with almost any dish and you can add in ingredients as you wish...

I have to agree with Bergy,we used leftover corn,mushrooms and a little bell pepper and it was delicious!I didnt have masala so I used a splash of lemon juice and some 5 spice seasoning perfect match for our entree'.Thanks for sharing!
1

onion, thinly cut
masala (garlic & lemon or garlic & herb or curry powder, just about anything that has flavour)
1⁄2 teaspoon salt
mixed vegetables
Prepare rice as per instructions on packet (I sometimes use the rice left over from the previous night).
Braise onions, butter and masala until golden brown.
Add in mixed vegetables with little water.
Once mixed vegetables are soft, add rice and salt, simmer for 3-5 minutes.
Great with chicken, meat and fish, just change your masala for different flavours all the time.