KateL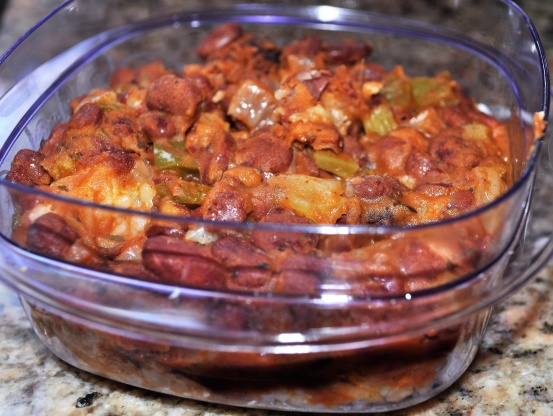 Designed as a main course for vegetarians, but could easily be a side dish as well. Also, if you have to have your meat, you could add chicken or sausage.

Top Review by KateL
This is my favorite lunchtime entrée. I use a 1-lb. bag of small red beans, soaked with salt for 8 hours, then pressure cook them as Cuban Black beans with a ham hock. I drain off the liquid and use the cooked beans instead of the canned kidney beans called for in this recipe. Meanwhile, I will have already prepared 2 cups brown rice with its soaking and rinsing, then pressure cooking that. I prefer my rice to be separate from the beans for contrast. I let the resulting Spicy Bean mix cool. I pull out a stack of 1.25-cup Rubbermaid containers, put 1/2 cup of cooked rice in each container, then one ladleful of Spicy Beans on top. I put the lid on and freeze my individual portions. As a result, I could take a container from the freezer and let it thaw until lunch, and warm it up in the microwave. I usually had this with a garden salad. Very satisfying, and spicy enough to be interesting.
Heat oil in saucepan. Add celery, green pepper, onion, and garlic. Heat until vegetables are beginning to get soft.
Add oregano, thyme, and cayenne pepper. Then, add tomato paste and vegetable broth.
Add red beans, salt, and rice. Let it come to a boil.
Cover and reduce heat to simmer. Let simmer for about 20-25 minutes.