Spicy Ramen Skillet Thai Style
PaulaG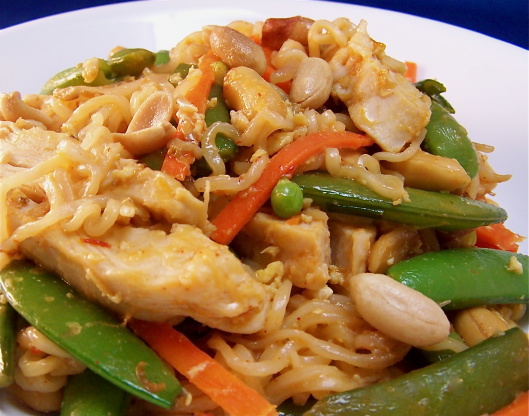 I came up with this recipe for "Dining on a Dollar". I love this because it' spicy, sweet, tangy, easy and quick to prepare, and best of all... inexpen$ive!
Top Review by PaulaG
A delicious dinner that was on the table in a flash. The recipe was reduced to 2 servings, using a little more snap peas than called for and probably reducing the amount of peanuts by about half. It produced very generous servings. Good luck in the contest.
Break ramen noodle squares into 4ths and boil in salted water until tender, about 2-3 minutes. Drain and rinse in cold water and allow to drain until later.
Mix all sauce ingredients in a small bowl and set aside.
Spray a large skillet with cooking spray and bring to med/high heat. Break eggs into pan and scramble stirring constantly until just cooked. Remove eggs from pan and set aside.
Wipe out pan if needed, and heat over high heat.
Add cooking oil to pan.
Add carrots and sugar snap peas and stirfry until starting to soften (about 2-3 minutes).
Add scallions and 2/3rds of peanuts, stirfry another minute.
Add bean sprouts and garlic and stirfry for about 1 more minute.
Push all ingredients to the outside edges of the pan and add drained ramen noodles adding a little more oil if you need to. Stirfry one more minute.
Add chicken and sauce mixture.
Cook until chicken is heated through and sauce has thickened slightly.
Stir in reserved eggs.
Continue cooking until everything is heated through.
Serve with remaining peanuts sprinkled on top.