Spicy Pumpkin Pancakes - Ww
DeniseBC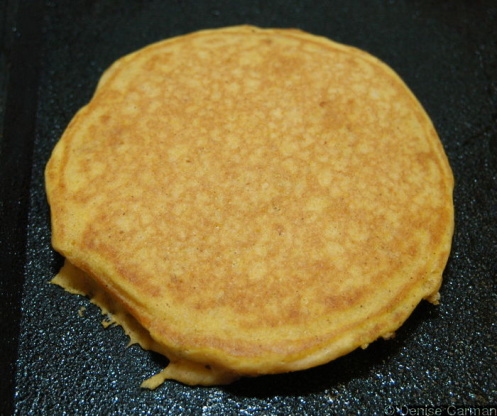 This delicious pancake recipe is wonderful with nothing more than a "dollup" of cool whip on top. For a more fancy recipe, serve with warmed apple pie filling and cool whip. The pancakes (without topping) are 5 WW points per serving.

Delightful, pumpkin-licious pancakes! I saw Denise's photo on My 3 Chefs and knew this would be a breakfast choice for me. No one would guess that it's a WW recipe with the perfectly spiced and sweetened (mine with Splenda) flavor. Fluffy and golden, just like a perfect pancake should be! Thanks for sharing.
Coat a griddle or skillet with cooking spray. Warm over medium heat.
Stir all ingredients until blended.
Pour slightly less than 1/4 cupfuls onto hot griddle or skillet. Cook until edges are dry. Turn, cook until golden.
Yields about 18 pancakes total, 3 pancakes per serving.