Spicy Pumpkin Pancakes- Bisquick
Susan C.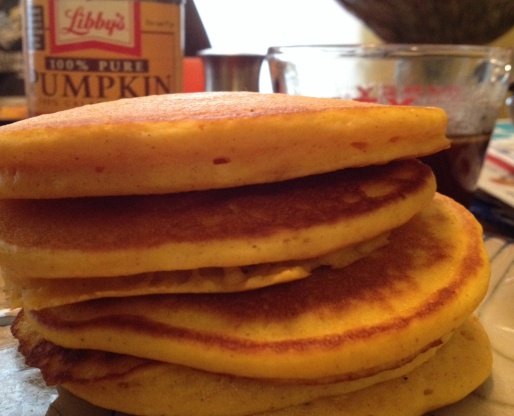 October 2000 Issue Betty Crocker Bisquick Mini-Cookbook

This was really good with some easy modifications. I wanted a more definitive pumpkin flavor so I doubled the amount of pumpkin and decreased the milk. I also used pumpkin pie spice and since I had doubled the pumpkin I doubled that as well. Came out very nicely.
Heat syrup and margarine until margarine is melted; remove from heat. Stir in pecans; Keep warm.
Stir pancake ingredients until well blended.
Pour batter by slightly less than 1/4 cupfuls onto hot griddle (grease griddle if necessary). Cook until edges are dry. Turn; cook until golden brown. Serve with syrup.