Spicy Prawn Fried Rice from New Zealand
JustJanS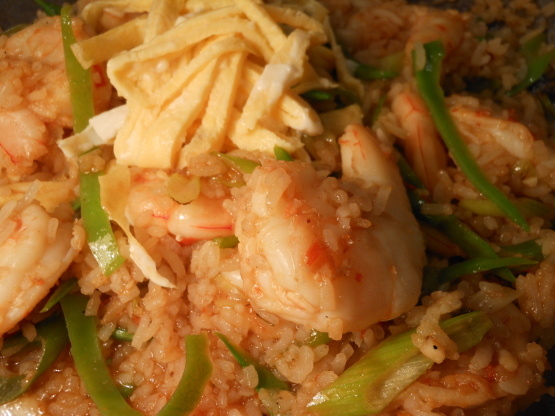 This recipe has been submitted for play in ZWT8 – Australia/New Zealand. The recipe was found at Wattie's - Food in a Minute website. Love Asian food but haven't tried making it yourself? This tasty fried rice dish with succulent prawns, Asian sauces and a chilli kick is a great place to start. Reheating cooked rice requires caution due to a bacterium that can cause food borne illness. When dealing with cooked rice you should refrigerate as soon as cooled and do not reheat more than once. Because this recipe uses cooked rice it should not be reheated again. Discard any leftovers.

Very nice stir-fry, wonderfully simple and quick, we really enjoyed this. I generally try to have cooked rice in the freezer so that we can enjoy stirfry, this particular batch of rice had had peas and corn added, and it went beautifully with the stirfry!! Thanks so much, BK, this was made for ZWT 8
1. Pour the beaten eggs into a hot, lightly greased frying pan and cook for 1-2 minutes until eggs are set, then turn the omelette onto a chopping board, cool, roll up and slice thinly.
Pat prawns dry with paper towels and heat sesame oil in a wok or open deep frying pan, add the prawns and cook until they turn pink, then set aside and keep warm.
Add spring onions and garlic and stir-fry over medium heat for 1 minute, next add the sweet thai chilli sauce, dark soya sauce, fish sauce and lime juice.
Return the prawns to the wok with the cooked rice and snow peas and toss together in the sauces.
Continue stir-frying until the rice and prawns are hot, then carefully stir through the sliced omelette and enjoy.