Nif_H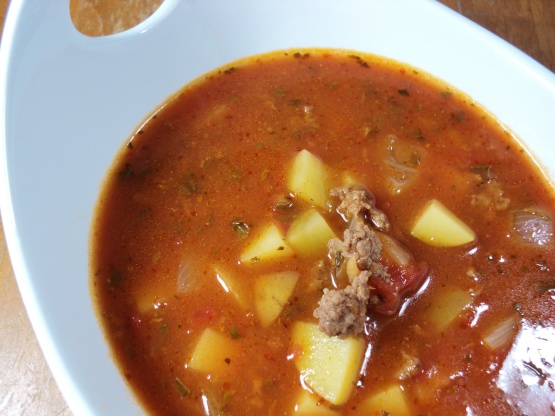 I do not remember where I found this recipe, but it's been one that I've enjoyed for some years. This is rather spicy, and you may want to cut down on the peppers. I generally omit the ground pepper and use 2 tsp. of pepper sauce, but am posting the recipe as I originally wrote it down.

This hit the spot here. Give DH anything thats made with hamburger and potatoes and he's a happy dude. I didn't add ant hot sauce to the recipe but just to my own bowl and we were both happy. I also added some dry beef soup base along with the tomato sauce and used the suggestion to mash some of the potato. Made the full recipe and have some 2 serving bags tucked away in the freezer. :D
In a large kettle, brown the beef and drain off the fat.
Add all the remaining ingredients and bring to a boil.
Reduce heat, cover, and simmer for about 1 hour.