Peter J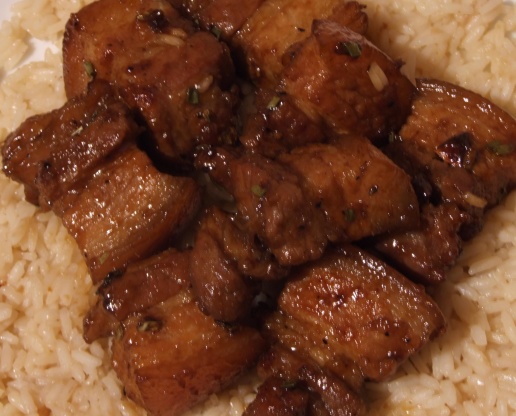 I spent a day looking after a family members home while workmen were there to install a new security entranceway (they are away on holiday) so to keep me busy I decided to go through their cookbooks looking for some recipes to post on 'zaar.

Top Review by ImPat
Made this for Edition 3 - Make My Recipe - a game of tag and bought the spareribs to make it while DH was on nightshift but due to lack of gas supply at work they closed down and DH does not like spare ribs so I made it with pork loin chops and they were delicious. The 4 chops had a total weight of 1.4k, I did not blanch them and just put them into the simmering sauce, turning occassionally and it took about 55 minutes for the sauce to get to the thick sticky stage but unfortunately the chops were a little dry so DH suggested that next time I put the heat up a bit and cook them for a shorter period which is what we will be doing. Thank you Jewelies for a great pork recipe oh and I will do it with the spareribs next time DH is on night shift.
Blanch the pork spare ribs in boiling water for a few minutes to remove the excess fat. Remove them from the pan and refresh in some cold water for a minute or so.
In a saucepan, mix together the soy and hoisin sauces, stock, sugar, star-anise, pepper, fish sauce and ginger. Bring to simmering point, add the blanched pork and simmer gently for 50-60 minutes or until the meat is tender and the sauce has become think and the meat richly glazed.
Sprinkle over the sesame oil and green onions and serve with steamed rice and stir-fried spinach or snow pea leaves.