Rita1652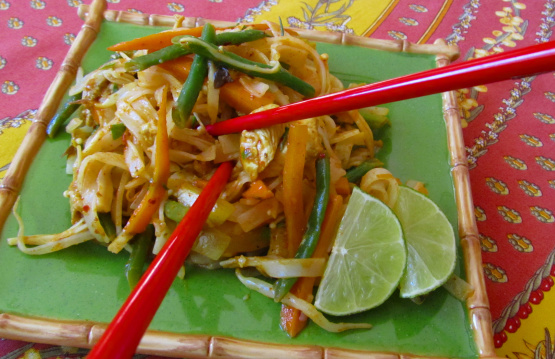 I am trying to discover more diabetic friendly recipes with taste so I can get a better control of my condition. This one is from BH&G Australian Diabetic Living and fits the bill. For this dish I would more than likely use pork fillet (loin).

Made this using Karee curry paste almost the same ingredients as the vindaloo paste. For the mix of veggies I stir fried string beans, onions, carrots, celery, mung bean sprouts, burdock root, and enoki mushrooms. Replace the cilantro with parsley to please my DH.I would enjoy the cilantro more. I did double the paste. Used lime which I favor in place of lemon. I feel some coconut milk would have made this really great! I do like the fact on 1 teaspoon of oil keeping the fat way down. Thanks for the good eats!
2

teaspoons vindaloo curry paste

2

teaspoons lemon juice (fresh)

2

(100 g) pork loin steaks (trimmed of fat and thinly sliced across the grain)

120

g egg noodles (dried Chang's recommended)
1⁄2 teaspoon olive oil

2

garlic cloves (thinly sliced)

1

tablespoon ginger (3cm piece fresh peeled and cut into thin strips)

500

g vegetables (stir fry fresh mix)

1

tablespoon water
1⁄2 cup coriander sprig (fresh)
1⁄2 lemon (cut into wedges to serve)
Combine curry paste and lemon juice in a small dish and add the pork and turn to coat.
Cover and set aside for 10 minutes to marinate.
Meanwhile, cook the noodles in a medium saucepan of boiling water for 3-4 minutes or until just tender and then drain well and then rinse under cold water and then set aside.
Heat oil in a large wok on medium high and add pork and stir fry for 2 minutes or until just cooked and then transfer to a plate and set aside.
Add garlic and ginger and stir fry for 1 minute and then add the vegetables and water and toss to combine.
Cover and cook for 2-3 minutes or until the vegetables are just tender.
Add the noodles, pork and any juices to the wok and stir fry for 2 minutes or until heated through.
Divide between bowls and top with the coriander to serve and accompany with lemon wedges.
VARIATION - replace vindaloo curry paste with tandoori and the pork with skinless chicken breast fillet.