WiGal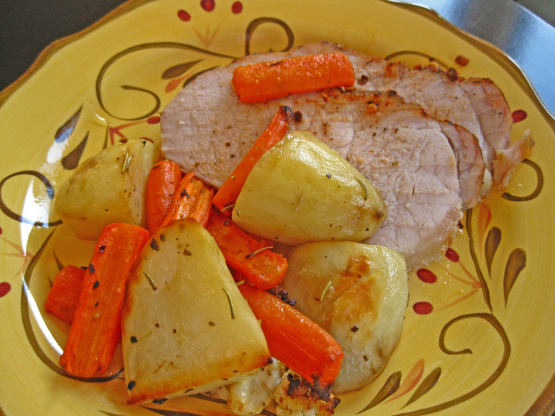 Clipped this out of a magazine some years ago ... don't remember which one. Edited to add: The original recipe didn't specify whether to use fresh garlic or dry granulated. I've always made it with dry granulated and Kat's Mom made it with fresh (which turned out to be messy but good (thanks Kat's Mom)! :)

Top Review by WiGal
Very nice although I would leave out the ground red pepper next time. Super easy especially if you line your roasting pan with foil--so easy that it you could go do something else like take a walk or enjoy a glass of wine. Moist because of the technique. High heat to sear and the resting are important. I had a 2 pound boneless pork loin (and used half the seasoning amount). The TWO POUND piece of pork took 1 hour and 45 minutes. Covered the meat with foil during resting time. I put my veggies in a different dish with the pork-they were not done so increased the oven temperature to 400 while meat was resting and still were not quite done probably would put them in before pork going into oven next time. Thank you skooch for sharing. Made for Spring PAC 2010.
In small bowl combine seasonings. Rub over pork. Cover with plastic wrap and refrigerate overnight.
Preheat oven to 425 degrees. Unwrap pork; place on rack in a roasting pan and place in oven; immediately reduce oven to 325 degrees.
Roast 2 hours and 15 minutes or until meat thermometer reaches 155 to 160 degees. Let stand 10 minutes (can be held at room temperature 1 hour).