Annacia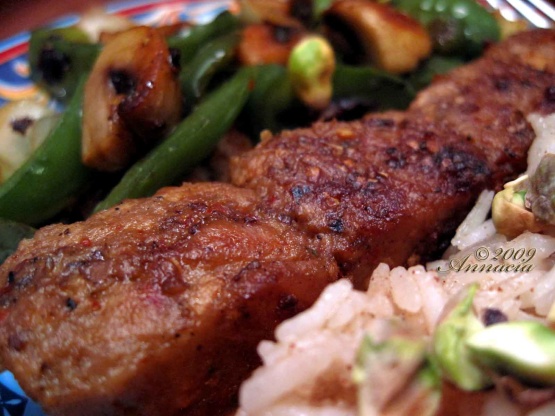 Spicy Italian kabobs are great finger foods for game time.

These are are nothing short of wonderfully delicious. When I read the recipe to DH I had little hope that he would be willing to try it but I was surprised when he said "I'll try the meat IF you don't put any of those peppers or onions on the stick". I didn't put any veggies "on the stick" but sauted them on the side for myself. He boweled me over with a 5 star rating and I made it two 5's. The kabobs were very tender and had the flavor clear through. I made these for dinner and used 4 pieces per "stick" and while they started out at about an ounce each let me tell you that they shrink quite a bit so plan accordingly. Made for Photo Tag.
Place pork cubes in zip lock bag; add salad dressing, honey, red pepper flakes peppers and onions. Seal bag; refrigerate for at least 1 hour to overnight to marinate.
Thread pork, peppers and onion on skewers. Discard marinade. Place kabobs on greased broiler pan and broil 5 inches from heat, or grill over medium-hot coals, for about 5 minutes per side.