Spicy Pork Chop Casserole
vrvrvr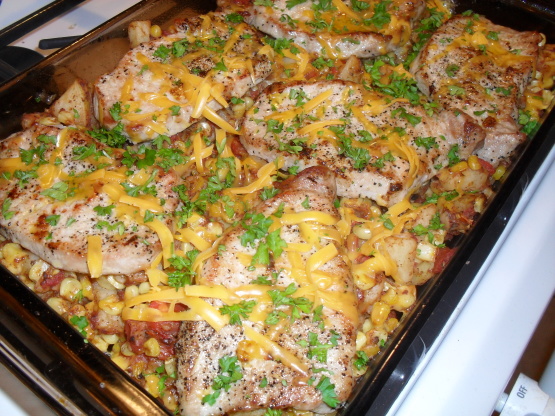 Wonderful combination of pork chops, potatoes, corn and seasonings. Out of a cookbook of my mom's.

Top Review by vrvrvr
What a terrific dish! We loved it! I didn't have frozen hash browns, so I used some pre-boiled russets that I diced. I also used more than 1 tsp. olive oil for browning the chops. Any that was left in the skillet I just poured over the casserole and put in the oven to bake. Also I didn't have monterey jack cheese, but cheddar was a fine substitute. This tastes so good; the potatoes took on a great smoky taste from the spices. The chops were tender and full of flavor. (I put garlic salt on my chops before sauteeing.) We enjoyed this dinner on a cold, rainy night with crusty bread and salad. Deeeeelicious!
Preheat oven to 375 degrees.
Lightly spray nonstick skillet with cooking spray.
Add corn, cook over medium high heat for 5 minutes or until corn begins to brown.
Add potatoes, cook and stir for 5 more minutes or until potatoes begin to brown.
Add tomatoes, chili powder, oregano, cumin and red pepper; stir until well mixed.
Lightly spray 8x8x2 baking dish with cooking spray. Pour corn mixture into dish.
Add oil and pork chops to skillet. Cook pork chops over medium-high heat until brown on one side.
Remove pork chops and place browned side up on top of corn mixture.
Sprinkle with pepper.
Bake uncovered 20 minutes or until meat is barely pink in center.
Sprinkle with cheese.
Let stand 2-3 minutes.