loof751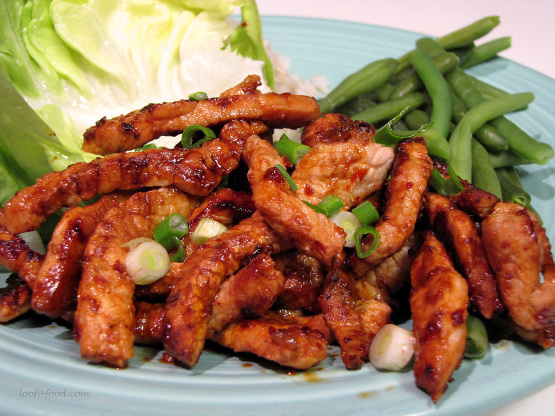 This comes from the author of the Eating and Living blog, a Korean-American mom with some great recipes. The contrast between the spicy meat and the crisp cool lettuce leaves is just delicious and fun. I can buy the meat sliced for bulgogi at my local Korean market, but if you don't have one of those handy, you might want to partially freeze your meat, which will help you slice it very thin. I like to serve this with rice. Prep time does not include marinating time.

Boy this is just delicious! Tons of flavor and so easy to make. I used thin-sliced pork chops and cut those into thin strips before marinating. I let the meat marinate while the rice was steaming (about 45 minutes) then cooked it up in a flash. Great recipe - thanks for sharing a keeper!
Mix together all of the marinade ingredients well.
Add the meat, onion and green onions and mix well so that all of the meat is coated. Let marinate for at least an hour.
Heat a grill pan or a skillet over medium high heat and add the pork slices, cooking until it the pork is cooked through and slightly caramelized, turning once. (Do this in batches if necessary - do not crowd the pan).
Serve with lettuce leaves. - wrap the pork morsels in a lettuce leaf and enjoy!