Spicy Pork and Cabbage (crock Pot)
Derf2440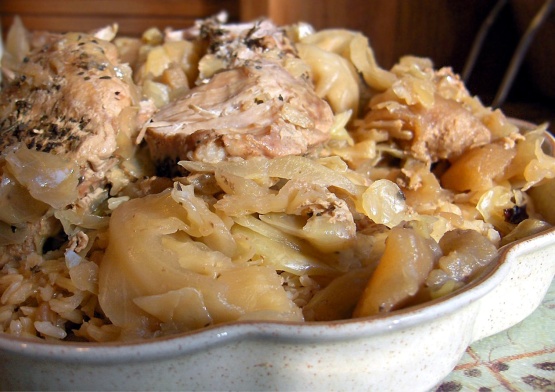 Great meal to come home to after being away all day.

This took me back to my childhood. My neighbor's mom was a german immigrant and she made things like this all the time. The only thing I was missing out of the meal was the smashed red potatoes with butter to eat it with. Wonderful! The only thing I would change next time is I'd put a layer of the cabbage and apples over the pork as it was a little dry. I used 5 cloves and a couple of bay leaves too. Go big or go home - and it was completely balanced and lovely. This is totally a keeper.
Season chops with salt and pepper and brush with Kitchen Bouquet.
Set aside.
Place cabbage, apples and onion in Crock Pot.
Add remaining ingredients except pork chops.
Toss together well to evenly distribue spices.
Arrange chops on top of cabbage mixture, stacking to fit.
Cover and cook on low for 8-10 hours.