Spicy Pork and Black Bean Chili
MarySC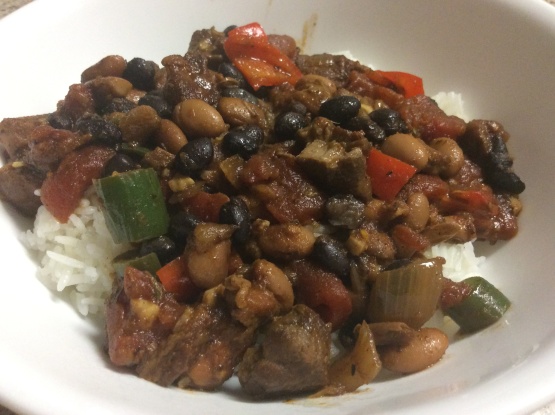 Best chili I've made. I had a little trouble cooking the black beans the first time (didn't seem to soften no matter how much I cooked them), so I substituted 2 cans of precooked beans per pound. This will become a regular.
453.59

g black beans

680.38

g boneless lean pork, cubed

5

clove garlic, minced

14.79

ml paprika

9.85

ml cumin, ground

1

can tomatoes, chopped 28 oz

29.58

ml red wine vinegar

78.07

ml parsley or 78.07 ml coriander, chop

0

to taste black pepper, freshly ground

29.58

ml olive oil

2

large onions, chopped

19.71

ml chili powder, or more

9.85

ml oregano, dried

2.46

ml chili pepper flakes

473.18

ml chicken stock

3

green peppers, diced

0

to taste salt
In a large pot, cover beans with water and bring to boil; cook for 2 minutes.
Cover and remove from heat. Let stand 1 hour.
Drain liquid and cover with 8 cups of cold water.
Bring to a boil, reduce heat and let simmer for about 1 1/2 hours or until beans are tender.
Drain and reserve. Meanwhile, heat oil in a large saucepan on high heat and brown meat cubes on all sides.
Remove from pan and set aside. Add onions and garlic to pan; cook on medium heat until tender about 5 minutes.
Add chili powder, paprika, oregano, cumin and chili pepper flakes; cook, stirring for 1 minute. Return meat to pan along with tomatoes, including juice, stock and vinegar.
Bring to boil, let simmer, partly covered, for 1 1/2 hours or until meat is tender.
Add beans and peppers; season with salt and pepper.
Cover and cook 15 minutes more or until peppers are tender.
Add chopped parsley or chopped coriander.