Thorsten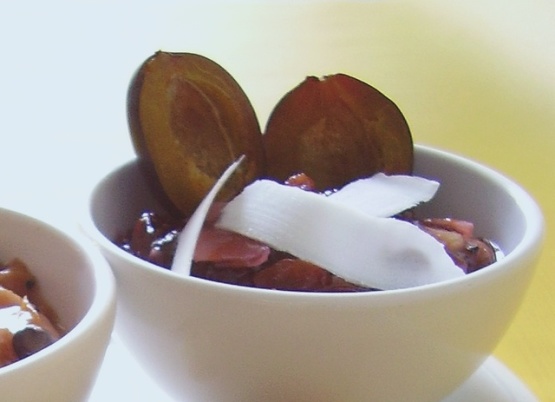 This sweet and spicy chutney is from my favorite Indian Vegetarian Cookbook.

Made this yesterday and although I liked it well enough, it was even better today! I made some minor changes but I don't think it affected the finished dish in the end. I do not know of, nor have seen nigella seeds so I took a small shallot and minced and smashed it instead. I also coarse chopped the plums because my Indian student does not like his fruit or vegetables unless cut small. I really enjoyed this as a nice change and will make again but will cut the sugar down to about half of what the recipe calls for next time.
Heat ghee in a large sauce pan over moderate low heat until hot, but not smoking.
Add fennel seeds, nigella seeds, black mustard seeds and chilies. Fry until mustard seeds pop and turn grey.
Add the plums, raisins, sugar, salt and simmer until thick for about 30 to 40 minutes.
Remove from heat and stir in walnuts, coconut and ginger.
Let cool down to serve or fill into sealed glases and refrigerate.
NOTE: you can replace ghee by a mixture of butter and canola oil.
NOTE: nigella seeds (kalonji) is also called black onion seeds.
NOTE: black mustard seeds can be replaced by brown mustard seeds.