Spicy Pineapple Pickle (Acar Nenas)
Kitty Z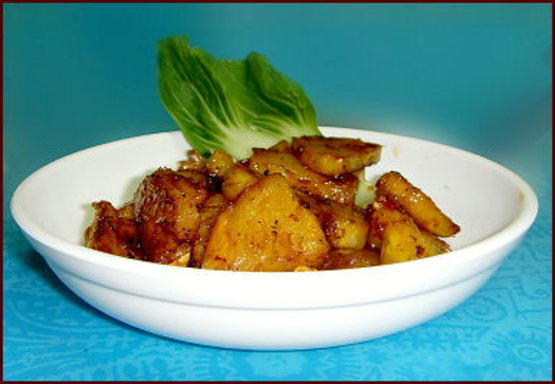 This looked too interesting to pass up! It's not too pickly, with just a tablespoon of vinegar, but deliciously sweet and spicy. From a cookbook, "Nonya Favourites," which I picked up in Singapore. The book suggests serving this with rice and a coconut curry, or fried fish.

Top Review by awalde
Delicious!
I've prepared this with fresh pineapple. I increased the dark soya sauce to my taste to 1/2 tablespoon.
This was perfect with my asian chicken recipe and white asian rice.
Thanks for sharing. I'll do it again.
Done for "Bargain Basement Tag Game - December 2010"
Cut pineapple into 1-cm-thick wedges.
Heat oil in a wok, add ginger and chili, saute about 2 minutes until fragrant.
Add remaining ingredients and cook, stirring constantly, for 10 minutes.
The pickle is finished when the oil rises to the top and the pineapple is glossy. The pineapple should still be juicy.