Lou van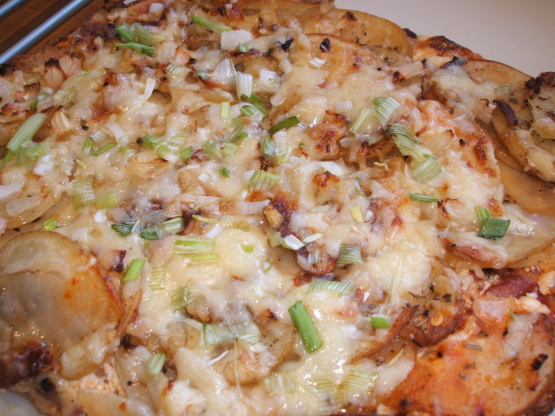 This recipe comes from our local newspaper. I make mine on a gluten free crust - my attempt at replicating Boston Pizza's Perogy Pizza.

Thanks for the recipe, I was looking to replicate Boston Pizza's perogy pizza as well and this came pretty close. Next time I might change the layering a bit: Crust, sauce, sour cream, potatoes, onions, bacon, mozzarella, cheddar, green onions. Surprisingly, this was a hit with my six-year old as well and she wants to give you her review as well. "It was good, but something was missing and we don't know what. Maybe a little more red pepper taste. I think I'll have this pizza again." In my opinion, garlic might have been the missing ingredient, throw in some minced or slivered garlic in a middle layers. The four stars came from her, something we all really liked but I told her to save five stars for "best she's ever had".
Thinly slice potatoes and place, over lapping, on a greased baking sheet. Sprinkle with salt, pepper, garlic powder, parsley, dried red chilies and paprika. Bake for 20-30 minutes at 350°F.
Spread a very thin layer of tomato sauce on crust and sprinkle with mozzarella (not as much sauce or cheese as on a regular pizza or it will overpower the potatoes) Carefully spread sour cream on top of sauce/cheese.
Place baked potato slices on top and sprinkle with broken up bacon and then onions.
Bake at 425°F for 15-20 minutes. Take pizza out and sprinkle cheddar cheese and chopped green onions.
Turn oven off and put pizza back in for about 5 minutes to melt the cheddar.