Spicy Peanut Pork W/Rice Noodles
IngridH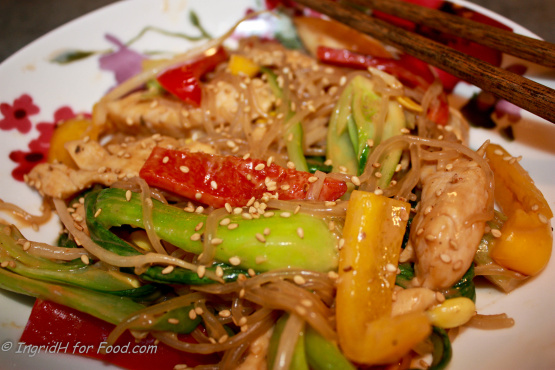 This recipe is from LCBO's Wine&Food magazine. My husband makes this recipe when I am away because I really do not like peanut butter. But for those of you that do this seems to be :) a great recipe

Flavors were good, but sauce ended up a little pasty after mixing noodles and sauce. I also think the rice noodles are hard to work with. I'll use fettucini from now on. I made according tp directions.
Place rice noodles into a large bowl and pour boiling water over to cover. Let stand for 10 minutes or until softened.
Cut tenderloin in half lengthwise, then slice thinly. Season with salt and pepper.
Heat oil in a large non-stick skillet over medium-high heat and saute pork until browned, about 4 minutes. Remove to plate. Add green onions and red peppers and saute for about 4 minutes until crisp-tender. Add to plate with pork tenderloin.
Whisk together water, peanut butter, vinegar, soy sauce, garlic and chili paste and pour into skillet, bring to a boil. Return pork and vegetables to skillet.
Drain noodles and add to skillet. Cook for about 3 minutes or until coated well.
Sprinkle with peanuts before serving.