Spicy Peanut Dipping Sauce
lazyme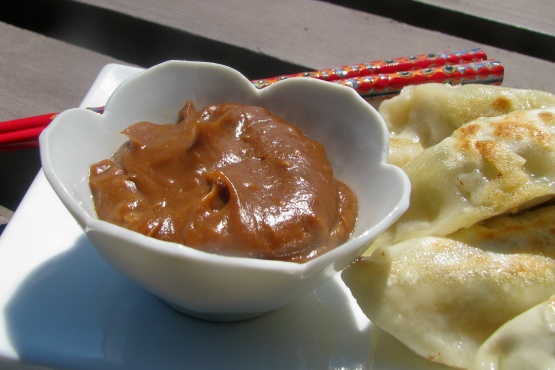 Based on a recipe from Robin Robertson's book, Vegan Planet. The intro to this recipe says, "Serve this delicious and extremely versatile sauce with steamed vegetables or spring rolls, or toss with hot or cold cooked noodles." For a natural sweetener I use agave nectar although any other natural sweetener is fine if not using refined sugar. My husband and I are always in need of a peanut dipping sauce for his awesome homemade rice paper spring rolls. I haven't yet found a store-bought sauce that I'd buy again.
118.29

ml smooth peanut butter, natural

14.79

ml garlic, minced

59.14

ml tamari (your preferred soy sauce is fine)

59.14

ml water, plus additional as needed

14.79

ml rice vinegar

4.92

ml asian chili paste

4.92

ml sugar or 4.92 ml agave nectar

29.58

ml fresh cilantro leaves, finely chopped
Combine peanut butter, garlic, tamari, water, vinegar, chili paste, and sugar in small bowl or food processor until well blended. Taste and adjust seasonings accordingly. Add more water to thin the sauce if necessary.
Use immediately or cover and refrigerate until ready to use.
Stir in cilantro just before serving.
Stored properly, this sauce keeps for 4 to 5 days.