Spicy Peanut-Coconut Shrimp
teresas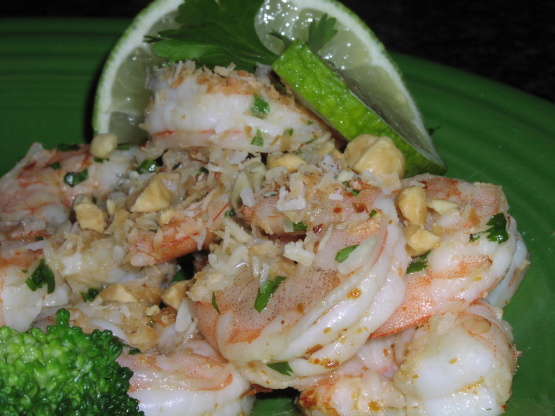 The recipe recommends serving this dish with steamed sugar snap peas, couscous and slices of ripe pineapple. The picture of this dish takes you away to the Caribbean without the cost of the airfare!

What wonderful combination of flavors...I normally don't care for nuts on my food...but I made an exception for this dish and really enjoyed it...this is easy and quick to prepare...it has just a touch of heat...there isn't any one ingredient that dominates the dish...each stands alone so you really get to enjoy each flavor...I did think that there was too much coconut and peanuts so next time I'll cut back on those...I had plenty left over but that could be because this only served two of us...we're pigs...I served it with recipe #488674 and steamed broccoli...it's a keeper...thanks for posting it...=)
Roast the coconut in a small nonstick skillet over medium-high heat 2-3 minutes until golden, stirring constantly. Immediately remove from skillet.
Heat oil in large nonstick skillet over medium-high heat. Add shrimp and red pepper flakes; stir-fry 3-4 minutes until shrimp are pink and opaque. Add cilantro; toss well and transfer to serving plates. Top each serving with 1 tablespoons toasted coconut and 1 tablespoons chopped peanuts. Garnish with lime wedges.