Spicy Peach-Glazed Pork Chops
lazyme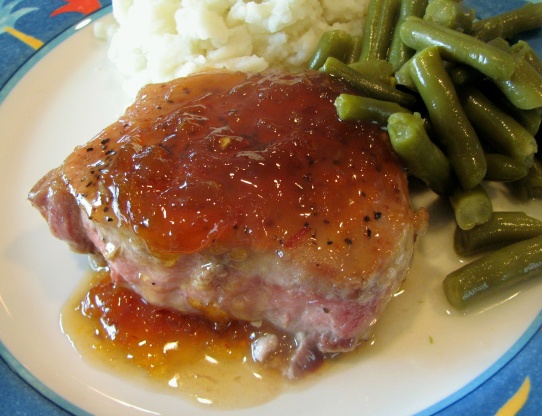 Sweet and spicy boneless pork chops made with a special sauce that includes peach preserves and white wine.

This is a wonderful dish. Had to make a couple substitutions. Did not have preserves, so I used canned peaches with a little honey for sweetness and no chili paste so I used Sirachi sauce.
In a small bowl, mix together the peach preserves, Worcestershire sauce, and chile paste.
Rinse pork chops, and pat dry.
Sprinkle the chops with ginger, cinnamon, salt, and pepper.
Heat oil in a large skillet over medium-high heat. Sear the chops for about 2 minutes on each side. Remove from the pan, and set aside.
Pour white wine into the pan, and stir to scrape the bottom of the pan.
Stir in the peach preserves mixture.
Return the chops to the pan, and flip to coat with the sauce.
Reduce heat to medium low, and cook the pork chops for about 8 minutes on each side, or until done.