Spicy Orange Stir Fry Sauce
vrvrvr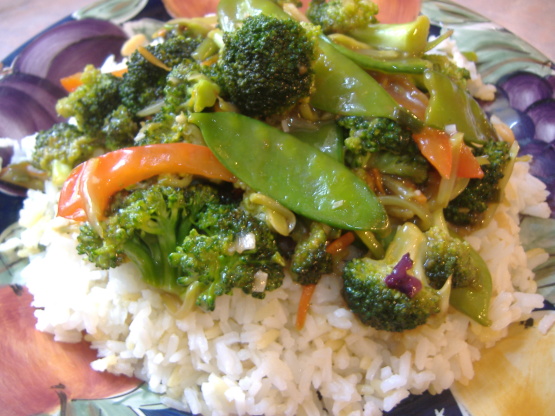 This is a combination of several recipes I found online and tweaked a little to pull together. THis recipe makes enough for a stir-fry that serves two people, but it is easily doubled or tripled. I like to marinate my chicken in it first, and then thicken up the left over marinade with the cornstarch, but it works just as well as just a sauce. I recommend trying a stir fry with chicken, broccoli, and peanuts.

Top Review by vrvrvr
Yum-yum-yummy and the perfect amount for two. I put this over a veggie stir fry for lunch. In place of the red pepper flakes I used about 1/4 t. cayenne. I reduced the cornstarch to 1 T. Loved everything about this tasty sauce and I'll keep it handy for many more "next times!" Thanks.
2⁄3 cup orange juice
1 1⁄2 tablespoons soy sauce
1 1⁄2-2 1⁄2 teaspoons red pepper flakes (to taste)

1

teaspoon peanut oil or 1 teaspoon sesame oil

1

teaspoon hot sauce

1

teaspoon minced garlic

2

tablespoons cornstarch, to thicken
Mix all ingredients together with a whisk.
If using as a marinade, leave out the cornstarch. If using as a sauce, whisk in cornstarch until it dissolves; add to the pan or wok and let come to a boil and simmer until thickened.